The most important advance in Palm data entry since Graffiti!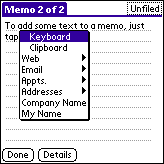 Any time you need to enter text, TextMaster lets you popup a list of dozens or even hundreds of your own words and phrases, ready to insert with a single tap! Or popup the on-screen keyboard for additional data entry. No matter what the application,TextMaster will save you time and make your PalmOS handheld that much more useful!
This is a "must-have" application for all PalmOS 5.0 and higher devices! Details..
Under a variety of circumstances you can end up with every entry in your PalmOS handheld being duplicated, quadruplicated, or worse! Removing them by hand can take hours. UnDupe does it for you! A Palm Computing Platinum Solution. Details..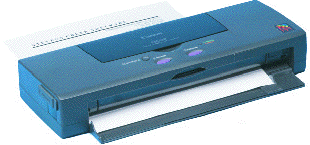 Print from your PalmOS handheld! PalmPrint prints via infrared, Bluetooth, and serial to a wide variety of desktop, portable, and receipt printers from dozens of PalmOS applications. A Palm Computing Platinum Solution. Details...
Powerful mailing list manager! Save up to eight different mailing lists, print out sets of envelopes or sheets of mailing labels. Details...
The ultimate handheld random number generator. Details...
New Area Codes are constantly being created, so your phone numbers need to be updated. Details...
Want to learn more about PalmOS handhelds?
Our software runs on the Palm operating system (PalmOS). PalmOS is developed by PalmSource, and is licensed for use on handheld devices made by palmOne (including the Treo, Zire, and Tungsten lines), Handspring (now part of palmOne), Sony, Symbol (some models), Kyocera, Samsung, and others. A complete, current list of licensees, with links to their respective websites, can be found here.